We would not only like to give a big shout out to all of our
"Happy Campers"
who keep coming backtime after time, year after year
but also tell you how much
we really do appreciate
your business
and love that
your family
chooses to share your camping getaways with
our family
and for that our friends....... ​
We Thank You!!!
So..... to
show
you our appreciation,
not only are you getting last years rates
but we've added even more specials, site give away, ridicules special rates,
the longer you camp here, the bigger your discounts.
I mean it's crazy.....discounts for first time campers, newbie discount.
Discounts for bring a friend who never camped with us before,
discounts for how ever many years you been camping here......
Prizes for the best, family photo, the craziest, and oldest photo taken from here​.
Keep an eye out for our crazy coupons... they'll be coming from all directions​,
on our website as well as our Facebook page
so whenever you see them be sure to print it out and bring it with you at time of check-in,
Remember to mention an special while making your reservation.
Until then....
Don't miss out on the last few weekends of our
Click here --->
Spring &
Fall Special
<--- Click here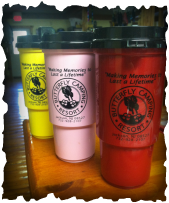 Be Sure to Get Your Camping Mug!
$8.99= FREE Coffee for Life with this Travel Mug
See store for details & other colors available